Online Registration for Meetings & Events That's Quick & Easy

Promote Your Meetings & Events

Create custom event descriptions
Promote your events via e-mail
Easy online event registration or RSVP

Manage Your Meetings & Events

Accept credit card payments
Offline registration for phone, fax, and on-site
Flexible ticket pricing
Funds are deposited directly into your bank account
Create an online community

Easy To Use

Quick and easy account setup
Real-time reporting shows RSVPs or paid registrations
Hosted solution without local software
Free for meetings & events without credit card registration
Affordable Pricing for Events


SureToMeet Basic Services

Basic event RSVP services
No account setup fees
Send e-mail invitations
Use survey/poll feature

SureToMeet Credit Card Registration Services

Includes all Basic Services
Accept payment with major credit cards
Does not require your own Internet credit card merchant account and gateway account
Low Credit card processing fee with payments deposited into your bank account frequently
Getting Started is Quick and Easy

We invite you to use SureToMeet's easy features to grow attendance at your events, meetings, and activities.

It's easy to start using SureToMeet.

Create your account using your e-mail address and preferred password.
Receive an e-mail with your personalized authentication link, then click the link and log in.
Complete your Organization Profile describing your organization and how to receive payments for your event tickets.
Create your events by clicking Create Event in the menu, and describe your event.
Select whether you want to track RSVPs (for free events) or create a set of tickets (for paid events).
Paste in your e-mail invitation list and schedule your e-mail event invitations.

So, get started using SureToMeet to bring people together at your meetings and events.


Event Promotion
Create an event page for each event, meeting, or activity
Copy or repeat events and schedule for automatic publishing, ticketing, and e-mailing announcements
Automatically adjust each attendee's invitation to their timezone
Automatically add new contacts to future events.
Show attendee list on event page for community involvement
Event pages are automatically optimized for search engines
Organization page lists all upcoming public events with links to individual event pages
Provide calendar notation with one-click for personal calendars, such as Microsoft Outlook or Apple iCal
Invitees see events from multiple organizers on their individual SureToMeet calendar
Provide registrants with a map and door-to-door driving directions
Poll attendees as they RSVP or pay for registration using a flexible survey system
E-Mail Invitations
Schedule up to five e-mail announcements/reminders that include complete event description details and a link to the RSVP/registration Web page
Track recipient action after receiving e-mail announcement/reminder (i.e., opens e-mail, views Web page, indicates RSVP response, purchases ticket)
E-mail announcements/reminders include a short URL to event page that are easy to e-mail to friends, associates, and colleagues
Allow invitees to use the invite-a-friend form on the event page to send e-mail invitations that can add new invitees to your database
RSVP Tracking
Track each person's RSVP (Yes, Maybe, or No) so you'll know who will attend your event, activity, or meeting
Display an optional list of people on the event page and their RSVP response (Yes, Maybe, or No)
Allow invitees to leave short messages on the event page
Monitor RSVPs for both public and private events
RSVPs by people viewing a public event listing are added to your contact list for future events
Limit the number of people who can RSVP "Yes," while continuing to accept "Maybe", and "No" RSVPs for a waiting list
Allow attendees to add guests
Track who opens an e-mail invitation and views the event Web page
Track e-mail "bounces" so you know to update their contact data
Print the RSVP list to use at event registration
Export the invitation list to a spreadsheet to print name badges
Online Registrations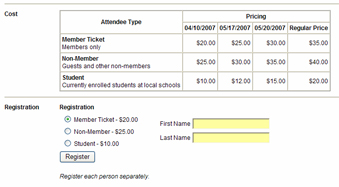 Create different ticket types such as member or guest, specifying different prices for each type of ticket
Specify up to three discounted prices for each type of ticket a different "early bird" deadline date
View printable attendee list with names of each attendee and ticket purchased
Export attendee data for use in a spreadsheet or local database to build custom reports
Create your own discount codes to offer special registration prices to select attendees
Online Credit Card Payments
Online event registration pages are pre-populated with all the information of your registrant's profile
Captures complete contact data when registrant purchases tickets online
Enter registrations taken offline (i.e., check or cash at the event) and automatically add to your master attendee database
Export registration data for use in spreadsheets and local databases
Printable receipt Web page and immediate e-mail confirmation sent to registrant
Low credit card acceptance fee, no set-up fee, and your net receipts are deposited into your bank account.
High-level 128 bit encryption, SSL (Secure Socket Layer), and no credit card numbers are stored
Contact & Membership Database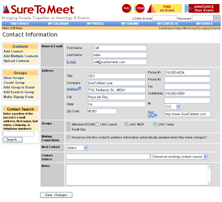 No maximum list size
Enter contacts individually or in batches
Extensive CRM features, such as list segmentation, source, notes, status, next contact, and complete event attendance history
Opt-in subscription form can be placed anywhere on your Web site
Upload & Save Contact Lists -- Import and save contacts for easy invitations and reminders
Segment contact/membership list into specialized groups for use in specialized events and e-mail, and organization committees
Allow contacts/members to update your data for them when they update their own profile
Online Membership Payment
Collect membership dues online with membership payment form
Create multiple membership levels with individual payment amounts
Extensive tracking and reporting for applications and renewals
Review any member's full transaction history
Publish a member directory for public or private access
Attendee Profile
Invitees can provide as much information about themselves, including uploading a photo, as they wish to share
Invitees can allow other invitees to click the link to their profile from an event description page
Invitees can allow other invitees to add them to their SureToMeet "My Contacts" list
Contact data about a person can be automatically updated when that contact updates their profile
E-Mail Newsletter
Create and send e-mail information, reminders, and newsletters
Web-based WYSIWYG HTML editor makes it easy to create and format content, preview, and publish e-mail newsletters and mailings
Use offline-created HTML content for maximum control over formatting and branding
Schedule delivery date and time
Subscribers can easily unsubscribe from newsletters without unsubscribing from event invitations and reminders
Subscription form integrates with existing Web site's look & feel
Subscribers can update their own profile
Web Calendars of Public Events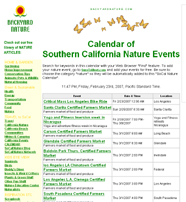 Public Events are automatically included in searchable public calendar on SureToMeet.com
Public Events are syndicated to other Web site sites according to their content and location
Public Events are supplied to Google and other search engines within hours of being published
Add a calendar of your events to your Web site that is automatically updated
Cross-promote events with a combined calendar of events to your Web site that lists events for your organization and other related, local, or affiliated organizations
Personalized Event Recommendations
Weekly SureToMeet Event Newsletter includes events and activities that match each subscriber's interest profile and location
Personalized event calendar recommends events and activities that match each subscriber's interest profile and location